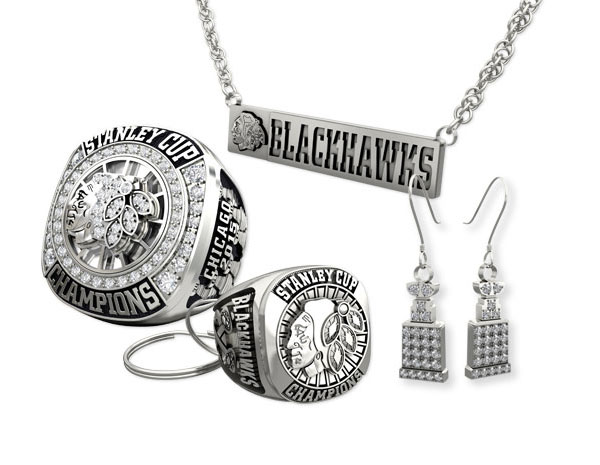 To the rafters, to the max, to the final horn and to this moment, you carried us. The Chicago Blackhawks and the Chicago Blackhawks fans are second to none. Make the celebration last a lifetime in symbols, keepsakes and the rewards of loyalty.

This is One Goal achieved and One Goal shared by many.

FAST FAQS

222 round brilliant-cut white diamonds
Custom-cut tapered rubies
4 marquise diamonds
2 genuine pear-shaped emeralds
7 baguette rubies
25 round yellow diamonds
14 Karat white gold ring weighs approximately 93 grams
Total carat weight is 14.68

LEFT SIDE

The Blackhawks secondary logo is created in yellow gold with seven custom-cut genuine rubies in the handles and two genuine pear-shaped emeralds in the tomahawk tops. The "C" is set with 25 brilliant-cut yellow diamonds.

RIGHT SIDE

The right side of the ring features 2013 filled with red color enamel. Below are five diamond-filled Stanley Cup trophies - representing the franchise's five Stanley Cup victories. Each trophy, with the exception of the middle, feature the years the team has won - 34, 38, 61 and 10.

INSIDE

The inside of the ring is incised with the team motto, One Goal, and the playoff series scores.