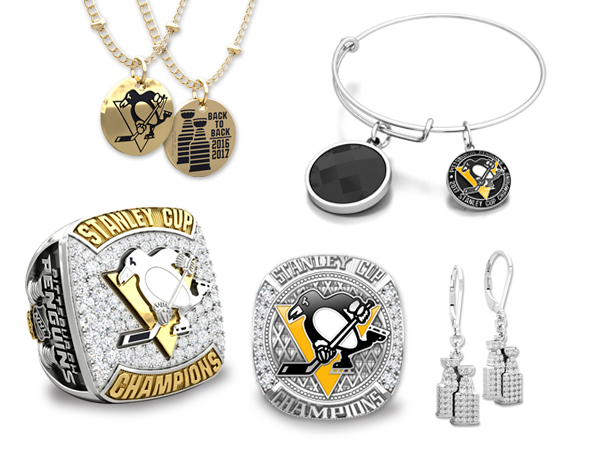 PITTSBURGH'S PRIDE ON ICE
This Limited Edition Collection is specially designed to give all Penguins fans an opportunity to share in the 2016 NHL Stanley Cup Championship. Shop the Official Fan Collection of rings, pendants, keepsakes and collectibles.

The Pittsburgh Penguins 2016 Stanley Cup Championship Ring commemorates the team's outstanding 2015-2016 championship season.

The ring top is crafted in white gold, while "STANLEY CUP CHAMPIONS" frames the top and bottom edges of the ring in yellow gold. This dual-tone technique creates a brilliant display of contrast.

The iconic Penguins logo crest is custom-cut from a striking black onyx stone with a half-carat pear-shaped diamond within the Penguin's torso. The Penguin's hockey stick features one tapered baguette diamond. The triangle in the background of the logo crest represents the shape of downtown Pittsburgh and is made up of 18 yellow diamonds, thereby giving the ring a sense of depth. 30 custom-cut princess diamonds are set in a circle around the perimeter, with an additional 15 stones set behind the logo crest.

LEFT SIDE

The edges of the top and sides of the ring are waterfall set with diamonds, making for smooth, cascading edges and a streamlined aesthetic.

The left side panel proudly displays the team name, the player's last name and the player's number elegantly set with diamonds.

RIGHT SIDE

The right side panel features the year "2016" and four Stanley Cup trophies, proudly representing each of the storied franchise's championship victories for the City of Pittsburgh.

INSIDE

The inside arbor is engraved with the team motto "Just Play" and the records of the four playoff series wins on the path to Stanley Cup glory. The entire ring is crafted with a natural satin finish and houses a total stone count of 309 diamonds with a total weight of 8.80 carats.