Pay the way you want to pay
Jostens offers a variety of convenient payment options during checkout. Add your items to your cart, provide your billing and shipping address, and then choose how you would like to pay to finalize your order. Restrictions or credit approval may apply.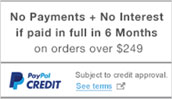 PayPal Credit
Buy now, pay later
Shop without using your credit card
Use PayPal Credit at over 1,000 other stores
Aproval only takes a few seconds
No annual fee
No Payments + No interest if paid in full 6 months on orders over $249.
– Subject to credit approval
– Some restrictions apply, See terms

PayPal
Sign in to pay with your PayPal account, or create an account with PayPal.

Credit Card
Jostens accepts Visa, MasterCard, American Express,
and Discover.
Only one card may be used per transaction.
Print and Order in School
Print an order form to bring to your school and pay your Jostens rep at the order table.

*Note: Orders with products from multiple schools, or orders with rings, yearbooks, or some products do not qualify for this payment type.
eCheck
Electronic check: pay for your order directly from your checking account.

Telecheck
When you provide a check as payment, you authorize us to use information from your check to process a one-time Electronic Funds Transfer (EFT) or a draft drawn from your account, or to process the payment as a check transation. When we use information from your check to make an EFT, funds may be withdrawn from your account as soon as the same day you make your payment and you will not receive your check back from your financial instutition. if your payment is returned unpaid, you authorize the collection of your payment and a return fee of $30 by EFT(s) or draft(s) drawn from your account.

Jostens J-Pay™ Payment Plan
Charged three monthly installments
First installment is charged within two to three days
Only eligible for high school ring products
Payment Plans are not available for Canadian orders.
Need to make a payment for your High School Jewelry or Graduation products?
Simply Sign In to Jostens Online Payments site.
If your question is not answered here, please contact us.