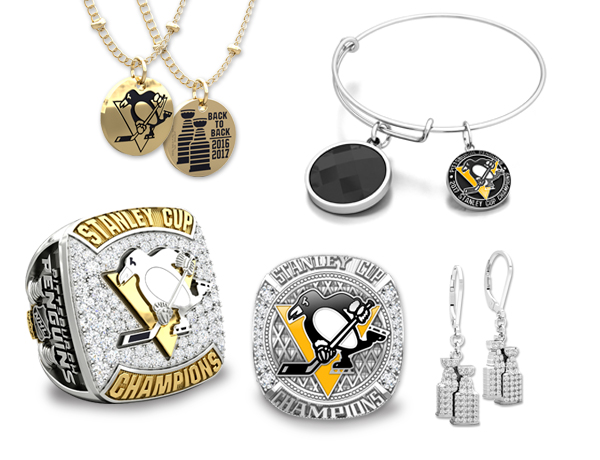 Celebrate the Pittsburgh Penguins 2017 NHL
Stanley Cup Championship. Shop the Official
Fan Collection and our line of finely crafted
jewelry made exclusively for you. Available
for a limited time only.
The Pittsburgh Penguins 2017 Stanley Cup Championship Ring beautifully commemorates the team's remarkable 2016-2017 championship season. Crafted in 14-karat white and yellow gold with 394 individually hand-set diamonds, this ring is a fitting reward for the Penguins back-to-back championship.

The ring top features 199 stunning round diamonds that create a unique full-domed waterfall effect, making for smooth cascading edges, with yellow gold accenting the top and bottom, proudly displaying the words "STANLEY CUP CHAMPIONS." The iconic Penguins logo rests atop a yellow gold pavé-set triangle set with 10 dazzling canary yellow diamonds, creating a layered, three-dimensional appearance. A .75 carat pear-shaped diamond rests in the Penguin's torso, with a subtle number "5" creating its eye, a nod to the franchise's five Stanley Cup victories. A tapered baguette sits in the end of the hockey stick and completes the logo in striking fashion.

In an industry-first, the sides of the ring are created with independent, solid 14-karat yellow gold panels that contrast with the brilliant white gold seen throughout the rest of the ring.

The right side of the ring features the year date of "2017" and is pavé-set with 23 diamonds. Five white gold Stanley Cups sit below the year, representing the team's remarkable five Stanley Cup victories in franchise history.

The left side features the recipient's name and number. Below it sits two Stanley Cups adorned in pavé-set diamonds, encircling a banner that reads "BACK 2 BACK" representing the team's repeat as Stanley Cup Champions.

The interior arbor is engraved with the team motto, "PLAY THE RIGHT WAY," and the records of the four playoff series won, along with the opponents the Penguins defeated on the road to repeat championship history.

The ring features 392 round diamonds, a .75 carat pear-shaped diamond and a tapered baguette-shaped diamond for an astonishing total carat weight of 9.25 carats.