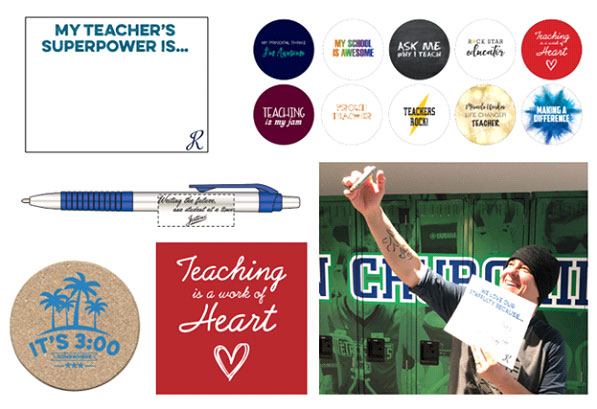 Teacher Appreciation
Make it Personal and Meaningful
Teachers appreciate all gestures that recognize their hard work and emotional investment, but they especially value personal expressions of thanks and recognition. This kit will provide ideas and small gifts to show you recognize their contributions to the school climate and culture and their commitment to the well-being of your students.
If you need more of the buttons, pens, coasters, or Kudos notepads, they are available at JostensRenaissance.com/store or contact your Jostens rep.
Teacher Appreciation Buttons (50)
There are many reasons why they teach, and many ways to express them. Give these out at a staff meeting or choose buttons especially for each teacher and distribute in their mailboxes.
Teacher Appreciation Selfie Signs (5)
Have students or teachers choose one of these prompts and write messages of authentic gratitude. Share them online and tag your school account so your parents can see them as well! Print more by downloading the PDF here.
Writing the Future Pens (25)
Every time a teacher picks up this pen, it's a reminder of the sense of purpose educators share now as well as our investment in the leaders of tomorrow.
It's 3:00 Somewhere Coasters (4)
In the middle of a stressful day, a peek at this cheeky coaster will remind teachers that there is an end in sight.
Idea Exchange Idea: Teacher Appreciation Selfie Signs (1)
Recognition can be personally meaningful and publicly acknowledged at the same time. This idea, from our Idea Exchange, is printed on the envelope containing the Selfie Signs, and includes suggestions for showing your whole school community how much you value your teachers. Renaissance is all about sharing great ideas, and the Idea Exchange is where you can find descriptions and photos from schools across the country. Visit JostensRenaissance.com/idea-exchange for many more!
"Teaching is a Work of Heart" Meme (Download)
Use on Twitter, Facebook, emails, or your district/school website to show your teachers some love. Download the JPEG file here.
Kudos Notepad (1)
These are a quick, convenient way for administrators to recognize teachers and give personal feedback supporting the behaviors you want to reinforce. Additional pads are available in the Renaissance Store.
Need More? For additional items from the kit, contact your Jostens rep or email: renaissance@jostens.com.