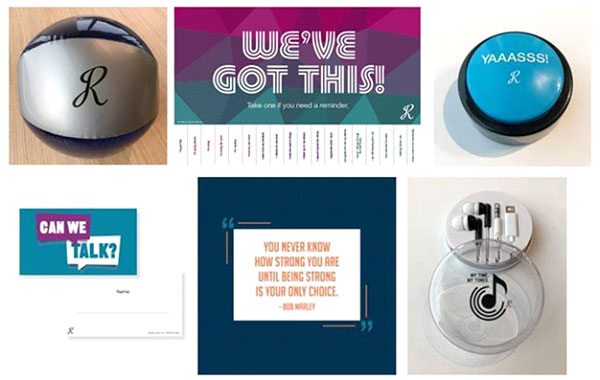 Stressbusters
There's Always Time for Fun
Many aspects of the schoolhouse can be sources of joy, and many can also be sources of stress. Students feel pressure to perform and conform, and adults feel pressure to make sure students are learning and becoming productive citizens. Everyone can benefit from taking a break to celebrate things that go right and to let out frustration when things are challenging. This kit contains supplies for celebrating wins, recognizing when support is needed and just having fun. If you need more of the buttons, cards, earbuds, or posters, they are available at JostensRenaissance.com/store or contact your Jostens rep.
YAAASSS Button (1)
When tensions are high and victories seem hard to come by, it's even more important to celebrate the successes. When students meet a yearbook deadline or knock it out of the park with a solid presentation, have them hit this button to hear a hearty congratulations from Mike Smith, host of The Harbor™ by Jostens.
Can We Talk Cards (Pack of 100) and Template (1)
Use these cards to create a fun and private way for students to let you know they need a conversation. Have them write their name on the back and slip it to you quietly, so you can reach out to them. Use the template to make your own copies.
My Time, My Tunes Earbuds (1)
We all need a little down time and listening to music we choose is the perfect way to relax. These earbuds would make a great gift for a teacher who likes music or needs a little morale boost. Includes adaptors for several connections to phones and computers.
Use When Kneaded Putty (1)
It's just for fun. That's all there is to it. Squeeze it when you're on a difficult phone call or just knead to squash out some stress.
Idea Exchange Idea: Can We Talk Cards (1)
This idea from our Idea Exchange includes suggestions for using the cards to make connections in a way that students can keep private. Renaissance is all about sharing great ideas, and the Idea Exchange is where you can find descriptions and photos from schools across the country. Click here to download. Visit JostensRenaissance.com/ideaexchange for many more!
Let It Out Tissues (1)
We all have days where we're moved by watching young people grow and learn, and days where we feel the strain of being on their journey with them. It's healthy to let the emotions out and these tissues are here for those moments.
We've Got This Poster (3)
Sometimes we need a little reminder of the strength we each bring to our collective success. Have a student cut the dotted lines so it's easy to choose and take a slip from the bottom.
Renaissance Beach Ball (1)
It is impossible to bat around a beach ball and not have a little fun. Use this at assemblies to get the crowd involved - have a contest to see which section can get it from back to front fastest. Or have a class activity where someone writes a positive affirmation or relaxing activity, reads someone else's idea, and tosses it across the room to the next person. Use a chalk marker or dry erase marker for erasable but lasting writing.
Coping Strategies Lesson from the Renaissance Leadership Curriculum (1)
The new Jostens Renaissance Leadership Curriculum converges the study of leadership principles with the action of building a healthy school-wide climate and culture. The curriculum contains 9 units of instruction, over 80 individual lessons, and skills training for students in a variety of areas. The curriculum is available at JostensRenaissance.com for Jostens customers, along with The Harbor series. Click here to download this sample copy.
"Being Strong" Meme (Download)
Use on Twitter, Facebook, emails, or your district/school website to remind your community of their strength. Download the JPEG file here.
Need More? For additional items from the kit, contact your Jostens rep or email: renaissance@jostens.com.