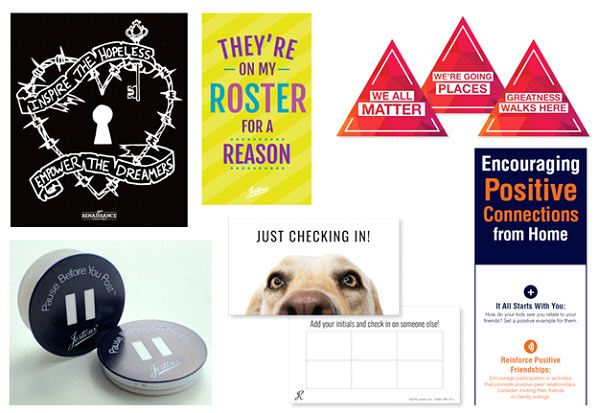 Positive Connections
You're not just sharing a building, you're building a community
It's easy to say a school is a community, but how can you intentionally guide your community to be based on positive connections between students and their peers, between adults and students, between parents and students, and between adults and their colleagues? This kit will provide several items to promote connections in visible ways on campus and several ways to encourage personal conversations.
If you need more of the decals, posters, cards, bookmarks, magnets or phone grips, they are available at JostensRenaissance.com/store or contact your Jostens rep.
We're Going Places Floor Decals (Set of 3)
Remind your students every time they walk in the building that this is a place of connection. These three decals set a tone of fun, confidence and inclusion.
Inspire the Hopeless Poster (1)
Put this up in the staff office to remind teachers of their calling or in a leadership classroom so students think about their peers that can use a little extra consideration.
Encouraging Positive Connections Bookmarks (1 pack of 100)
How can you help parents and caregivers encourage positive friendships between their teens and their friends? Send these bookmarks home with students or give directly to parents at an open house.
Just Checking In Cards (1 pack of 100)
Use these cards to create a fun way for students to check in on each other. Talk with staffulty about ways to encourage students to look out for each other. Make it more fun by having students sign completed cards and drop them in a bowl in the office.
Download the template to print your own.
Idea Exchange Idea: Just Checking In Cards (1)
This idea from our Idea Exchange includes suggestions for creating a climate where students feel comfortable checking in on each other. Renaissance is all about sharing great ideas, and the Idea Exchange is where you can find descriptions and photos from schools across the country. Visit JostensRenaissance.com/idea-exchange for many more!
They're On My Roster for a Reason Magnets (1 pack of 50)
Teachers all have days when they need to remind themselves why they got into the profession. Teachers bring their special skills and authentic connection to every interaction with students, and all students have something unique to teach us. Give these to teachers as an affirmation of the important work they do every day.
Pause Before You Post Phone Grip (1)
Social media can be used in ways that connect people and it can also be very divisive when people post too quickly. What better place for a reminder to consider the consequences of social media use than right on your phone? Expand the grip to prop up the phone, use as a handle or wrangle a cord. Coordinates with our Pause Before You Post™ posters, buttons and flyers.
We All Matter Meme (Download)
Use on Twitter, Facebook, emails or your district/school website to declare your school's values. Download the JPEG file.
Need More? For additional items from the kit, contact your Jostens rep or email: renaissance@jostens.com.