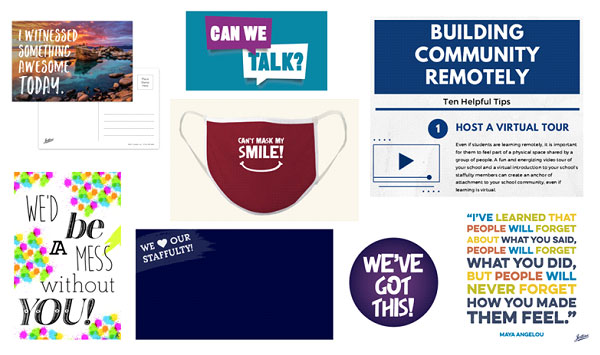 Distance Expressions
Stay Connected Whether In-School or Remote
Distance learning is a necessity right now, but truly staying connected is an intentional choice. Flexibility is the name of the game this year, and this kit provides both in-person and digital resources for helping your staffulty, students and parents stay connected as we work through this time together.
If you need more of the magnets, postcards, leashes, buttons, cards or posters, they are available at JostensRenaissance.com/store or through your Jostens rep.
Welcome to Our Family Magnets (Pack of 50)
These magnets are a quick and easy way to make new students or staffulty feel like part of your community. Stick them on the lockers or desks of new arrivals, or give them out to parents whose students are joining your school.
I Witnessed Something Awesome Postcards (Pack of 100)
Hand these fun cards to students when they do something special or send them home to parents as a surprise recognition. Remember that awesome things happen in remote learning environments as well – students support each other and dive into their work – and a little recognition goes a long way toward keeping them engaged.
Can We Talk Cards (Pack of 100), Template (1) and Download
Use these cards to create a fun and private way for students to let you know they need a conversation. Printed: Have students write their name on the back of a card and slip it to you quietly, so you can reach out to them. Use this template to make your own copies. Digital: Post this JPG image on your file sharing system and encourage educators and students to email or message these to each other when they need to connect. Establish your own guidelines and process – this Idea Exchange document has suggestions to get you started.
Virtual Backgrounds (Digital)
Talking with others on video calls gives us a glimpse into their living situations. Some educators as well as students may prefer not to share those details. Visit www.JostensRenaissance.com/virtual-backgrounds to choose from a number of background images for both audiences, offering recognition, positive messaging and fun designs.
People Will Never Forget Poster and Meme (1 and Digital) 
This quote from Maya Angelou reminds everyone to consider the impact of their actions on others. Put up the poster behind you for remote interactions, or use this meme in an online staff area or as your email signature.
Building Community Remotely Flyer (1 and Digital)
The Jostens Renaissance team put together a quick guide for keeping everyone connected even if they aren't able to be together physically. Download here or at www.JostensRenaissance.com/building-community-remotely to share on social media or print copies for parent night.
Goal Getters Poster and File (1 and Digital)
Many classes are now divided into several teams that may be working on the same project or toward the same goal. A visual representation of progress is always helpful, but it's not easy to find one poster or tool that includes three different measurement areas. Hang this poster on the wall of your classroom, or behind you if you're teaching remotely, and write the team names and mark progress with markers. Copy this graphic and use a drawing program to mark progress for online viewing.
Mask Leash (1)
Masks are part of our reality for our near future. Use this fun leash to keep your mask handy and clean if you need to take it on and off throughout the day. Did you know Jostens can print customized masks with your logo or message? Contact your Jostens rep for details on custom masks, or visit the Renaissance Store to order the mask pictured above.
"We've Got This" Button (Bag of 50)
We are going to get through this together, but some days we need a reminder. Give these buttons to your student leaders to wear around school as they model strength and support, or to your staffulty to wear on their lanyards as a reminder to themselves and others.
Virtual Learner Honor Roll Certificate (1 and Digital) and Idea Exchange (1)
Remote learning is challenging for everyone, and students who are able to do their work well and also be supportive and positive in their online interactions deserve recognition. This certificate and program offer a framework for identifying the behaviors you want to see and having a system for rewarding them. Download or make additional copies of this certificate as a keepsake (use this version to edit the name area) and be sure to recognize students authentically and personally even (especially) if you're doing it remotely. Establish your own guidelines and schedule – this Idea Exchange document has suggestions to get you started.
We'd Be a Mess Without You Poster (1)
While everyone in your building is stepping up right now, your maintenance/custodial crew is also on the front line of keeping your community safe and healthy. Put this poster up in the maintenance office and be sure to tell them in person how much you appreciate their work
"We've Got This!" Meme (Download)
Use on Twitter, Facebook, emails or your district/school website to remind your community of their strength. Download the JPG file here.
Need More? For additional items from the kit, contact your Jostens rep or email: renaissance@jostens.com.