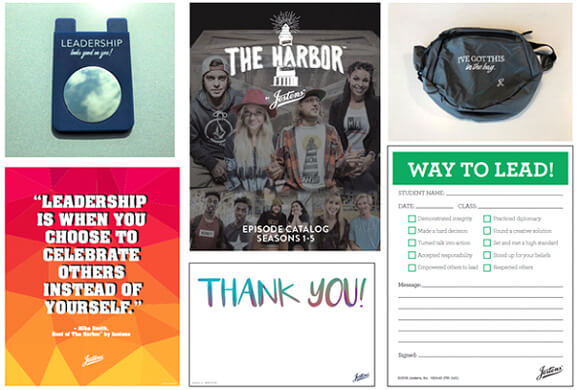 Leadership
It's not just for the chosen few
Every campus has its "leadership kids." They might be student council members, or in a leadership class, or running a Renaissance club. But every student has the potential to turn talk into action, or empower others to lead, or stand up for their beliefs. Encouraging more of those students to see themselves as leaders means they will feel more connected to your school culture and will look for ways they can continue to have a positive impact on their peers. This kit will provide several items that are personal and visual reminders of their talents, and also several resources for teachers to explore leadership principles.
If you need more of the notepads, posters, cell phone wallets, postcards, or fanny packs, they are available at JostensRenaissance.com/store or contact your Jostens representative.
Way to Lead Notepad (10)
Many students, especially those who don't think of themselves as leaders, demonstrate leadership qualities from time to time. Recognize and reinforce these behaviors by having teachers fill out this fun, quick note. Giving it to the students fosters authentic and personal connections.
Leadership Poster (1)
"Leadership is when you choose to celebrate others instead of yourself." Renaissance is all about celebrating others, and student leaders can sometimes use a reminder to bring other students with them, in an inclusive and real way.
Leadership Cell Phone Wallet (3)
It's designed for the back of a phone, but this would also be a good reminder in a locker or on a notebook. When students see themselves as leaders (and are reminded frequently), they are motivated to live up to their own expectations of what a leader should be.
"I've Got This in the Bag" Fanny Pack (1)
It's true — fanny packs are "in" again! Your Renaissance coordinator could use this to carry event supplies while preparing for a Renaissance Rally, or a student could wear it with a swagger into a testing session, carrying #2 pencils and a lucky eraser.
Thank You Postcard (2 packs of 100)
Showing appreciation is a key element of being a leader or organizer. These postcards make it easy to write a quick, colorful note to students or staff who helped make something happen. Consider having everyone in a class write one to a teacher and post these on the bulletin board or around the door.
Leadership Curriculum Flyer (1)
The new Jostens Renaissance Leadership Curriculum converges the study of leadership principles with the action of building a healthy school-wide climate and culture. The curriculum contains 9 units of instruction, over 100 individual lessons, and skills training for students in a variety of areas. The curriculum is available at JostensRenaissance.com for Jostens customers, along with The Harbor™ series.
Leadership Curriculum Sample
Lesson: Leadership Mindset (1) This sample lesson from the Leadership Curriculum shows the structure and flexibility of the lessons. Each lesson has a short description, list of materials, set-up needed, introduction, instruction, student assignment, reflection, and school climate impact section. This lesson involves exploring the attributes of a good leader and common challenges leaders face, and wraps up with a school climate activity involving the whole school community.
The Harbor Catalog (1)
Five full seasons of Harbor episodes are now categorized by theme, so you can identify several episode options for many relevant topics. You can show episodes sequentially, or design a schedule based on theme, with several episodes centered around the theme for the month. The catalog also includes a full list of episodes by season for reference.
Need More? For additional items from the kit, contact your Jostens rep or email: renaissance@jostens.com.