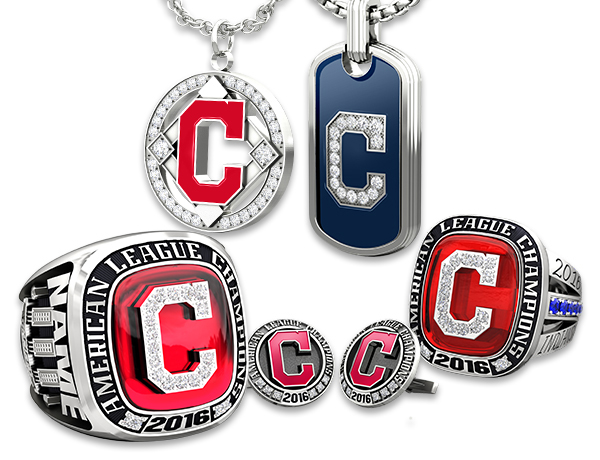 This Limited Edition Collection is specially designed to give all Indians fans an opportunity to share in the 2016 American League Championship.
Shop the Official Fan Collection now.

The Cleveland Indians 2016 American League Championship Ring celebrates the team's historic 2016 season and memorable playoff run.

The ring is made from 10-karat white gold and features the Cleveland Indians iconic "C" masterfully crafted from 18 pavé-set, brilliant round white diamonds above a custom cut and set corundum understone.

The ring top includes 41 pavé-set round diamonds surrounding the "C" and marking the team's 41 road wins, while 53 pavé-set round diamonds adorn the perimeter bezel and signify the team's 53 home wins.

The words 2016 AMERICAN LEAGUE CHAMPIONS surround the top and bottom edges of the ring with an antiqued finish. The entire ring includes 2.6 carats of diamonds and .4 carats of genuine rubies.

One side of the ring features a solid gold insert of an eagle from the American League Championship Trophy above one round white diamond representing the team's most recent American League pennant. Five genuine rubies surround the diamond and represent the team's five previous pennants.

The other side features a silhouette view of Progressive Field with its iconic stadium light towers reaching up the side of the ring and adorned with 18 round diamonds, six per light. Below the lights, the player's name is displayed on a gold insert on the scoreboard, with the player's number below the name.

The inside arbor features the team's slogan "RALLY TOGETHER" commemorating the team's remarkable playoff run, along with a silhouette of the iconic light towers, an outline of home plate featuring a "C" for Cleveland, and the year 2016.