Most yearbookers know that just being on yearbook staff is cause for celebration. But in case that wasn't enough, each year in early October there's an official one-week holiday, declared in 1987 by President Ronald Reagan to recognize this important school publication.
National Yearbook Week honors school yearbook programs for chronicling their school's history and the students who work to compile these memories into a lasting printed record.
While Yearbook Week seeks to recognize the role a school yearbook plays in documenting educational achievement and school tradition, it's not just a holiday for yearbook staff.
If the yearbook is for everyone, so is yearbook week!
Jostens will be celebrating yearbook staffs from October 4 – 8th via our Adviser and Staff Instagram and Facebook accounts.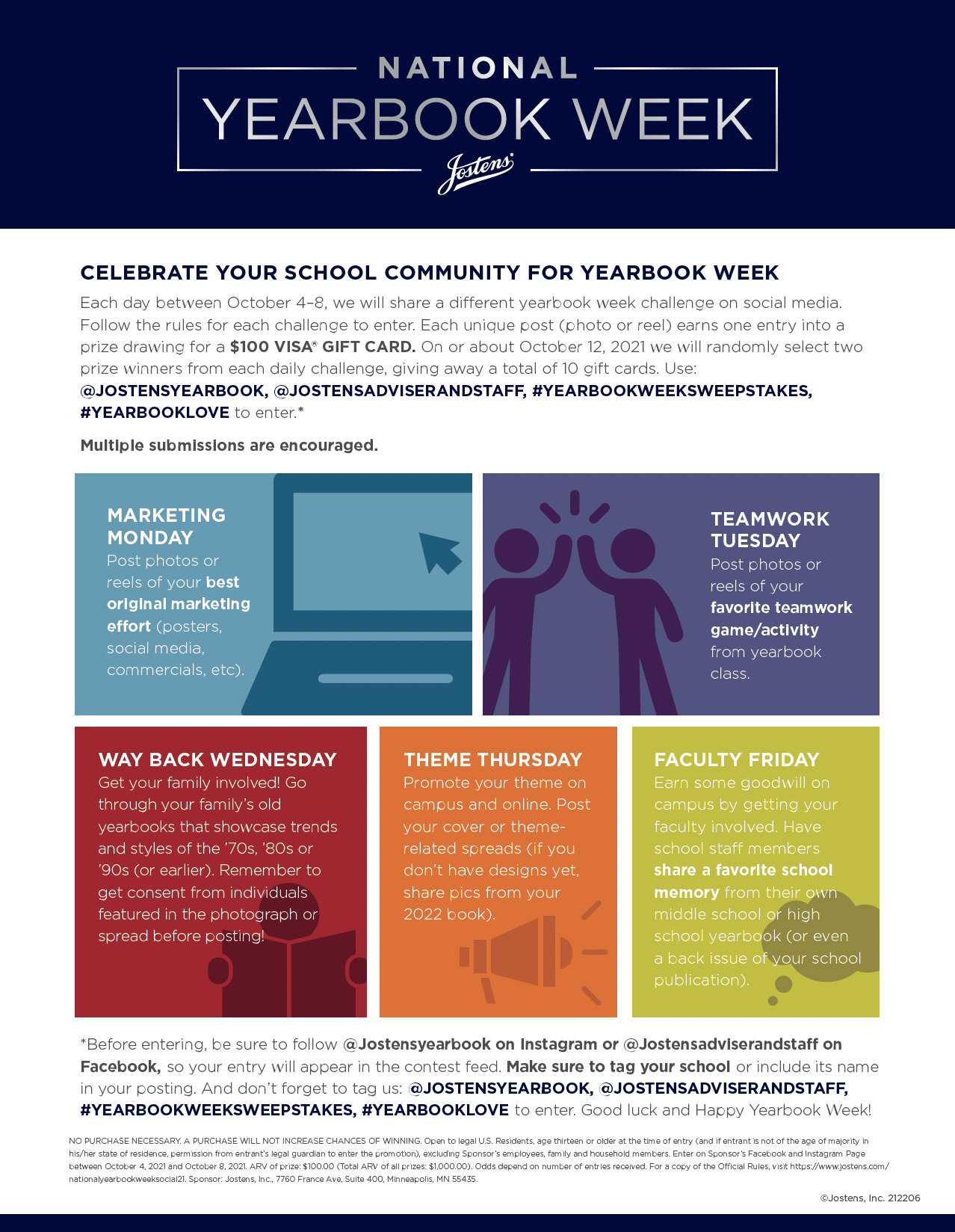 ---
In the meantime, consider these quick tips to turn yearbook week into a one-of-a-kind whole-school celebration.
THEME REVEAL
What better time than yearbook week to generate excitement about your yearbook by teasing this year's theme? Brand any announcements and posters for yearbook week with the overall look and feel of your book. Use colors, fonts and taglines to clearly communicate your message.
If you already have a cover, consider teasing its design over a series of posts on social media. Not on social media? Make a poster-sized printout of your cover and hide pieces of it around campus. Have students bring them to the yearbook room to be compiled for a cover reveal. Better yet? Paint a mural of your yearbook cover.
GO INTERACTIVE
As news about your theme starts to go viral, build on its momentum to launch any theme related surveys or activities that require participation from your student body. If you're considering incorporating a thematic link, now is a great time to get started.
DRESS-UP DAYS
Encourage your school administration to help you celebrate National Yearbook Week on a school-level by encouraging students to participate in a dress-up week. Personalize the days to your yearbook or theme, when possible, or pick from some of these options.
Celebrate the timelessness of your yearbook with

Decade Day

Go back in time for

Black and White Picture Day

, wearing any combination of black or white.

Honor your school's most valuable assets with

Dress Like a Teacher Day.

Show off your school pride with

Spirit Day

, wearing school colors. (a variation could be to have students wear yearbook theme colors)
Try to work in at least one yearbook theme-related dress up day. Here are a few examples:
The theme

Waking Up

might have Pajama Day

The theme

One of a Kind

might have Mismatch Clothing Day

The theme

One Foot in Front of the Other

might have Silly Sock Day

The theme

We're Feelin' 22

might have Dress Like a Pop Star Day
The possibilities are endless!
SALES AND GIVEAWAYS
Add buzz to an already exciting week with giveaways. Consider an offer where students who dress-up for dress up days and tag your school yearbook on social media are eligible to win a prize. You could do a gift card drawing or you could bring it back to the book and offer free personalization to the winner, with their purchase of a book.
Your Jostens team is on your side. Stay tuned for promotions we're running during National Yearbook Week to build momentum and help you boost your sales.
If now isn't the best time to celebrate yearbook week, you can save these tips to create your own yearbook week traditions for your school. Remember: no matter what you do, the only wrong way to celebrate yearbook week, is not to celebrate at all. Have fun making memories. And good luck!