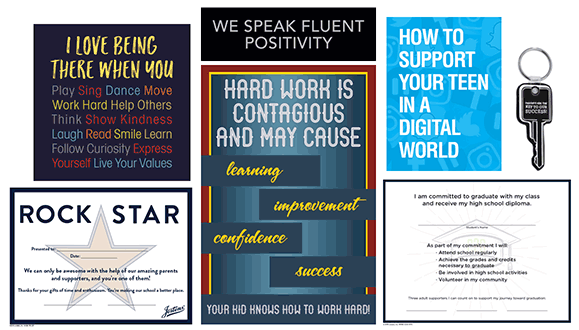 PARENT CONNECTIONS
WE'RE ALL IN THIS TOGETHER
We can create a welcoming, positive climate inside the schoolhouse walls, but many students go home to a very different environment. The more parents and adult supporters believe in the school, the more their students will want to participate. This kit will provide ideas and giveaways to help you include your parents in your school community and reinforce your positive culture with them.
If you need more Rock Star certificates, keychains, brochures, C2G contracts, desk signs, postcards, or magnets, they are available at JostensRenaissance.com/store or contact your Jostens rep.
Rock Star Award Certificates (20)
Recognize those parents and volunteers who help make your school great! Introduce and thank them at a breakfast or dinner, and give them a "Parents are the Key to Our Success" keychain.
Parents Are the Key Keychains (10)
Let them know how much you appreciate their contributions to the school community.
How to Support Your Teen in a Digital World Brochures (50)
These tips will help parents feel more comfortable with their teens' online activities and help them see the benefits as well as the dangers of social media and websites.
Idea Exchange Flyers – C2G Contracts and Rock Star Certificates
These Idea Exchange ideas share the best practices and tips for planning events to make the most of these documents. Renaissance is all about sharing great ideas, and the Idea Exchange is where you can find descriptions and photos from schools across the country. Visit JostensRenaissance.com/idea-exchange for many more!
Jostens Renaissance National Conference Flyer (1)
To really understand the power of Renaissance, attend our July gathering of educators and students who are passionate about making their schools more welcoming and positive places. Visit JostensRenaissance.com/2019JRNC for more details.
Fluent Positivity Desk Sign (1)
What impression do visitors get when they walk up to your front desk? Use this sign to share your values in a professional and welcoming way.
I Love Being There Magnets (50)
It's important for parents to come to their kids' activities and performances, but it's also important for them to talk about what being there means to them. Give this magnet to parents to remind them to have these conversations, or to give it to their students for their locker or mirror.
Commitment to Graduate® (C2G) Contracts for Students and Adult Supporters (1 of each)
Invite your students to make a commitment to graduate with their class by spelling out the expectations and reminding them of the adults who support them. Ask adults to make a similar commitment to reinforce the message that graduation matters and they play an important part. Click here to download the standard Student Contract, or click here to download the standard Adult Supporter Contract.
Commitment to Graduate (C2G) Contracts for Students and Adult Supporters (Editable PDFs)
These contracts are more meaningful when they include the school name and year of graduation. Add your school name and year, and print your own copies. Click here to download the editable Student Contract, or click here to download the editable Adult Supporter Contract.
Hard Work Postcards (100)
One of the consistent findings from our Pulse student survey results is that when we ask how well students are recognized for working hard, teachers think they are doing a much better job than students or parents do. Use these fun postcards to share examples or stories with parents.
Q&A with Renaissance Coaches: Parent Connections (Online Post)
We asked our team of nationwide educators how they develop authentic relationships with parents and are sharing their ideas in a post. Visit JostensRenaissance.com/parentconnections.
Download: "I Love Being There" Meme
Use on Twitter, Facebook, emails or your district/school website to strengthen connections and remind parents to tell their kids how much their participation in school and hard work means to them. Click here to download the JPEG file.
Need More? For additional items from the kit, contact your Jostens rep or email: renaissance@jostens.com.